This mercedes was covered with venture shield film about 3 years ago. unfortunately it looks terrible.
Be careful about using other films that don't have a true clearcoat finish. they are not very durable and are easily damaged to normal wear and tear.
Auto Armor only choose the finest quality films for your vehicle.
2013 Mercedes GLK350 – Package B – Xpel Ultimate – ClearPlex Windshield (windshield chip protection film), Full Hood, Full Fenders, Rockers, Behind Rear wheels, A-pillars, above windshield, Full Bumper, Headlights/fogs
this customer went all our with our premium protection options. He chose our premium film, Xpel Ultimate, as well. After long research on the internet he came to find Auto Armor.  Thank you for your business! We gave this car the full treatment and it looks stunning!
If you just bought a new 2013 Mercedes model of any kind then ask us about our current specials on these cars. We are offering  discounts for the month of November if its a new year model!
Plexus is a plastic cleaner/polish that many people use for some odd reason, yet don't really do enough research for themselves to see if it's actually safe to use on PPF film. Well….suffice to say, it's not safe. This is a sample of a film on the left that nothing was done to and the right sample was treated with plexus over a period of a year. Take note of the Plexus can you may have laying around and see the crusty yellow spray nozzle. That stuff is not recommended on film, at least not by Auto Armor Inc.
Some installation companies coat their PPF before installation to assist in glide of the squeegee over the film….BAD IDEA.
Some installers coat the car after an installation… BAD IDEA
Using this product may be good for what it's suited for…plastic, not paint protection film. Maybe it's safe for venture shield, not sure..we choose not to use ventureshield simply because it yellow's either way. Anyways, we like to share our knowledge and experience. View the photo below of two samples of untreated and treated with plexus.
an alternative?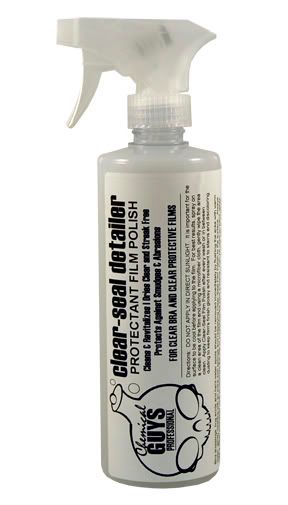 Consider a product designed SPECIFICALLY for PPF film such as Chemical Guy's Clear Seal Detailer – also we recommend many other great products such as the Xpel Sealant, CG Jetseal 109  etc etc. But this ClearSeal is the best conditioner to use for your clearbra.
this clearseal detailer can assist the installer in a slick surface on the PPF film before installation.
Auto Armor typically coats a vehicle after installation with this product to add that nice slick finish and conditions the film with quality UV inhibitors, UV gloss enhancers,  and PPFilm conditioners all while resisting finger prints and oil smudges. Makes the initial presentation to our customers the finest experience. 😉
Incoming search terms:
Plexus Plastic Cleaner Dealers
plexus cleaner
where to buy plexus plastic cleaner
plexus cleaner where to buy
where to buy plexus cleaner
where can i buy plexus plastic cleaner
plexus polish
plexus plastic cleaner australia
plexus plastic cleaner retailers
Plexus plastic polish
This nice charcoal colored scion FRS had autoarmor package A paint protection installed today. The customer chose 3M scotchgard as the film of choice! Looks fantastic!
He also chose chemical guys clear seal detailer to help maintain the clear bra clarity and durability over the many years to come as it protects this vehicles beautiful paint!
Come and check out our lynnwood shop and our full line of car care products from chemical guys!
Incoming search terms:
2002 Porsche Boxster – Xpel Ultimate clear bra – Package B – full hood, full fenders, full bumper, mirrors, headlights, side intakes, fender lips etc
this car is in flawless condition with a fresh repaint. No waste of time, straight to Auto Armor to get protected with a PROPER install of clearbra.
Check it out!
This super awesome mini cooper JCW had auto armor design and install a custom roof graphic of St.George's flag. We removed the rear shark fun antenna for a proper install. This mini also received our xpel ultimate treatment of a package A, upgrade 1 and rear bumper top. To top it off we also tinted the windows with 3M color stable film. Perfected with auto armor's touch. More photos will be added soon!!
This customer was absolutely satisfied with the quality or install on top notch materials. What do you all think!?
Note: this customer received a discount because he is a member of the puget sound mini club or www.psmini.org
Auto Armor – Vehicle Vinyl Wraps – 2012 Evoque Matte black wrap
This is the final product after several long days of work. The trim was painted black, and the car wrapped matte black. Looks great!
Incoming search terms:
plexus plastic cleaner
armour vehicle in issaquah
marysville plastic windsields
plexus